Features- What the total gym xls can do!
Diverse fitness system for all ages and fitness needs
The total gym XLS is a total gym top of the line fitness system that works well for ages 8 to 80. To be specific, the entire family is sure of getting a full body workout just by using one machine. This unit works well with all user fitness levels including beginner to advanced levels.
Discover how simple it is to get fit and maintain the ideal shape with this Total Gym XLS home equipment. It's important to note that the superior benefits of this fitness gym have made an excellent addition for various fitness enthusiasts.
For instance, this tool is endorsed by Christie Brinkley and Chuck Norris, and it also features a complete fitness program to eliminate the guesswork from your everyday routine.
In fact check out the video from Chuck himself
400lb weight capacity and over 80 exercises
The total gym also has a 400lb weight capacity and well over 80 exercises to provide all your major muscles with strength training, circuit training and even strength training benefits with just one machine. This device comes with an upgraded comfort system, cable system, and pulley along with head support for additional comfort when training for extensive periods.
The inclusion of the highly customized exercise enhances and improves the way in which your body engages in physical a activities. More so, you will also experience increased muscle memory, and this unit is designed to provide optimum functional training results. The result if full body conditions and superior workout result at every level of your training regime.
Whether you are an eight-year-old or perhaps an eight-year-old adult, this home gym works well to produce a result for your sculpting and health needs.
Upgraded workout features
This device also features a broad spectrum of notable upswings and additional total gym accessories from the previous models, to help it set a standard in the fitness world. To be specific, some of the notable upgrades include the new cable system, new puller and comfortable padding on the glide board.
This fitness machine also provides users with a broad spectrum of addition accessories that bring a new dimension to your workout regime. This includes the leg-pull accessory that works your hamstrings, quads, and various other muscles. More so, the inclusion of the flexible strap handles and the wing attachment allows users to tone different back and arm muscles.
When combined, all these accessories and the glide board will support well over 400 pounds thus providing users with a broad spectrum of body types with an ideal solution for enhancing their strength and stability levels.
No assembly required universal home gym folds for easy storage
Further lending to the superior design qualities of this total body gym is the fact it requires no assembly. In other words, you can start your workout regime each day without the hassles associated with setting up the conventional home gym.
There is no need for you to call a professional or for you to perhaps settle for your DIY tools. All you simply need to do is to set up the gym and start to enjoy the superior benefits of its comprehensive workout features. More over, the universal design of this home gym lets it fold into a compact unit for easy storage. This is especially ideal if you have small children or pets in the home.
Specifications
Product dimensions- 90 x 19 x 43 inches
Product weight- 84 pounds
Average customer rating on Amazon- 4.7/ 5 stars
Pros
The total gym is a well-known brand that is known for top quality fitness tools
This multi gym is simple to set up and store
It provides a broad spectrum of diverse workout activities for the entire body
The inclusion of the padded section is ideal for enhancing overall your comfort
This multi gym comes with several notable upgrades from the previous versions
The Total Gym brand is trusted by more than 4 million consumers to provide excellence in product design and functionality
Cons
It takes a significant duration of time for users to adjust to the strength training exercises
The total gym is optimized for strength training purposes
Verdict
Given all these points, when it comes to enhancing your workout regime, there is no space for poor decision-making. Embracing the best habits always has its inherent benefits. An excellent recommendation for you would be to invest in the Total Gym XLS since it has been designed for a full body workout approach.
The superior design features of this unit have been attracting some excellent user reviews and ratings. In particular, this total gym comes with special design features such as pulleys.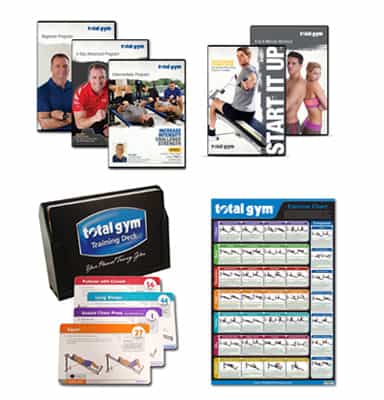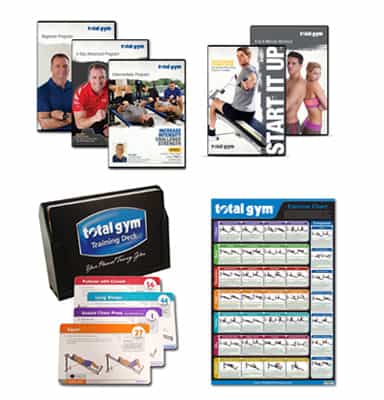 This device comes with various training DVDs that eliminate that guesswork in achieving the ideal health results. The added benefit is that this multi gym is simple to set up and all easy to store as well.
 If your looking for something that takes up even less space you may want to consider looking at a
home core workout
 . Another option is to combine supplementation with exercise by adding one of the
best fat burners for women
.