Kayaking is an awesome adventure sport and has steadily increased in popularity over the past few years. With more and more people trying out kayaking and other similar water sports like white water rafting, there is a marked need for beginners and newbies to know what equipment helps to make the sport more enjoyable. Having the best kayak gloves can give you a better overall experience.
Choosing the best kayak gloves can help to make paddling less tiring or even is a worst case scenario, prevent injury.
Why do I need Kayak Gloves?
Kayaking requires paddling with your hands, so protection for your hands is a necessary consideration. With constant motion, gripping, and friction, good gloves protect your hands from blisters and cuts while keeping them warm and tactile. Depending on the weather, your gloves also keep your hands warm or cool. The best kayaking gloves will provide you with sufficient grip to maintain control of your oars, still allow you to feel the water all while providing protection and cushioning. They should have separate outer and inner linings to prevent friction burns.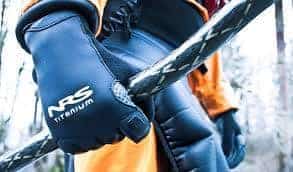 Outside vs inside layers
The outer layer should be sturdy enough to not tear easily. This is important when you come into contact with barnacles or other sharp objects that you might encounter. Durable neoprene, which is waterproof, is an excellent choice. You will also have rubber on the palm region which provides a grippy surface to ensure a firm grasp on the paddles.
The interior lining should be made of comfortable Lycra, which prevents moisture retention and allows your skin to breathe. It also allows you to easily put on or remove the gloves because they do not stick to your skin. An inner lining of fleece is also very comfortable and it has the additional benefit of keeping you warm in cold weather.
So that being said, let's take a look at two of the best kayak glove options. The Glacier Ice Bay neoprene paddling gloves and the Warmers Barnacle Half finger paddling glove.
Glacier Ice Bay Neoprene Paddling Gloves
Glacier is an experience and reputable company that makes accessories and protective gear for water sports. The Glacier Ice Bay Neoprene Paddling Glove is their all-purpose kayak glove. The product is designed to keep your hands warm in all but the coldest weather scenarios.
The outer layer is made up of premium quality neoprene, 2 mm in thickness. This provides adequate insulation and is also strong enough to be resistant to tears and cuts. The product performs surprisingly well in a number of different circumstances because the fingers offer great mobility and are not restrictive at all.
The inner lining is made of fleece, which cushions your hands while offering great thermal insulation. This also helps with wicking away sweat, keeping you comfortable. The palm is textured to improve grip and prevent slippage.
The killer feature however that the Glacier Ice Bay paddling gloves has is its price. The product is a steal and offers great value for money.
The product has a 5-star rating on Amazon and customer feedback is overwhelmingly positive. The waterproofing is extremely good and the dual lining does an excellent job in keeping you warm and dry even at temperatures below 10 degrees Celsius.
Pros
Great all-purpose gloves
Good thermal insulation
Textured palm grip is functional
Cons
2 mm thickness is prone to fast wearing
Cannot deal with sub-zero temperatures
Warmers Barnacle Half-Finger Paddling Glove
Warmers Barnacle Half Finger Paddling Glove
Neoprene, lycra and terry cloth
Lightweight glove for superior protection and control
Silicone "Barnacle" tactiles offer grip and control but still allow for a "skin-like" feel
Hand wash water and mild soap
China
These kayak gloves are a great warm weather product. The construction is quite durable with neoprene, Lycra, and terry cloth being used for lightness without compromising on strength.
The palm of the glove has several tactiles that offer grip without being too thick and reducing feel. It also allows you to retain control over your paddles, which often becomes an issue with most half finger or fingerless gloves.
Using terry cloth also wicks away perspiration and spray from the inside of the gloves, keeping you cool and dry. This enhances long-term comfort and provides for a more enjoyable kayaking experience. The design also prevents hot spots around the base of the fingers.
The Warmers Barnacle glove costs around USD 25 per pair, which is quite close to other similar gloves in this range cost.
Customer feedback is unequivocally positive, with a 4.4-star rating on Amazon. Many people dislike the fact that the sizing is not accurate and you may need to try a few sizes before you find an accurate fit. However, as far as the product is concerned, people really like the grip and feel the Warmers Barnacle provides.
Pros
Innovative tactiles provide grip without compromising feel
Good quality materials prevent sweat and keep hands dry
Cons
Sizes can be difficult to judge
Wrist-grip not water tight
Conclusion- The Best Kayak Gloves
So there you have it: some great products that offer a good balance of price and functionality. No product is perfect, but for the prices these cost, we can gladly overlook a few minor downsides.