So you are looking for the best kayak brands on the market. However, going name brand is not necessarily a sure-fire way to end up with the best kayak product. When it comes to kayaks, there is a long list of things that you should probably consider before you make a purchase. Choose wisely, and you will land yourself a kayak that will last you years and reward you with a ton of fun and enjoyment.
Choosing the best kayak for your needs
While there are many different types of kayaks, the most suitable one for you is based on what you want to use it for; are you planning to use the kayak for recreational paddling, white water rafting, or racing? Answering this question allows you to narrow down your choices and pick one that suits your budget.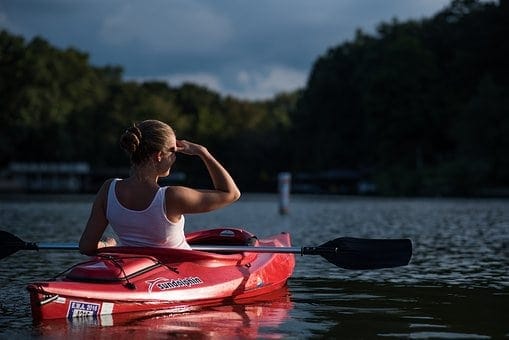 Recreational kayaks are designed with comfort in mind; they feature spacious cockpits and sit-on-top designs. White water kayaks need to be rigid and strong; they are made of high performance polymer and are shaped to facilitate maximum performance. Sea kayaks will have storage space below deck that allows you to store supplies for multi-day tours. Bear in mind that no one kayak will be great at everything. You will need to make a few compromises but they will be worth it in the end.
Is Shape important
The shape of the kayak is also something to consider. Longer, slender kayaks are designed for fast paddling and racing. Conversely, they also tend to be unstable and will rock about when waves or ripples hit. If you want a more stable kayak, then they won't be as fast when paddling. However, the additional space will allow more comfort and room to stretch your legs.
Plastic Kayaks vs Fiberglass Kayaks vs Inflatable Kayaks
The material used in the construction of the kayak is also a consideration. This is a major component of the final cost of the kayak. Most cheap kayaks are made of solid plastic, which is an extremely strong and durable material.
Fiber and resin kayaks use a combination of fiberglass or Kevlar weave embedded with resins which can range from inexpensive polyester to pricey epoxy. While they are lighter than plastic kayaks, they are also not as rigid and require a skilled user to operate. Additionally, saltwater adversely impacts the longevity of fiberglass kayaks.
Kevlar based kayaks are the lightest and are as rigid as the plastic ones. There are also inflatable kayaks that are designed for use in relatively calm waters only.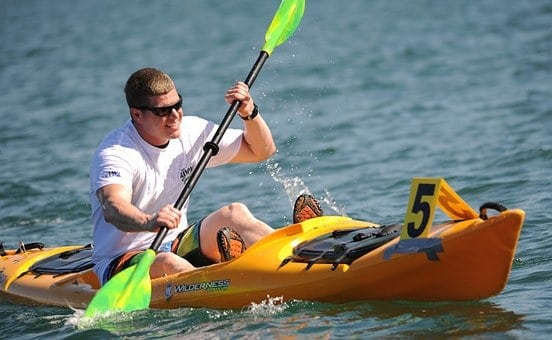 Now, this goes without saying but like everything else, price is a major factor when it comes to kayaks. A more expensive kayak will provide you with more features, better build quality, and will last you longer. They are built better and with premium materials that can take a lot of abuse and still hold up well. Cheaper ones have smaller lifespans, and especially if you are an avid kayaker, you will need to upgrade or replace your kayak fairly often.
Essential Kayak Accessories
One last thing to consider before we actually get into the best kayak brands themselves is not really about the kayak at all; having proper gear. Just like with any other sport, kayaking requires protective gear like gloves, vests, and helmets. While they might seem like overkill, having proper gear will actually enhance your kayaking experience, not restrict it.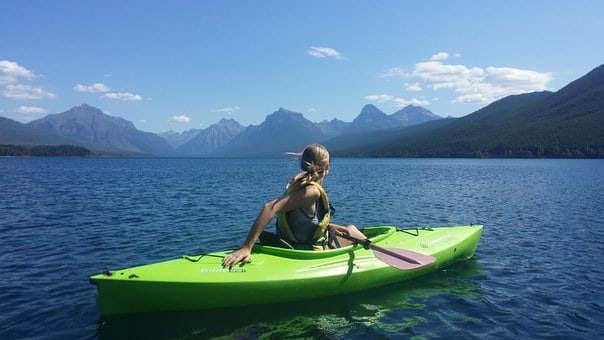 Gloves give you additional grip and also protect your hands from friction burns and early exhaustion. They also keep your hands sweat free and keep UV rays out.
Helmets can save your life if you are in rocky waters and your kayak is bouncing about; you are much more likely to hit your head on the hull or a stray paddle. Vests are positively lifesaving in case of a capsized kayak or if you are thrown overboard. They also provide UV protection in calmer weather. Having these items with you is not a chore but a step forward in ensuring your safety as well as enjoyment.
Now let's dive into the review some of the best kayak brands available:
The Intex Explorer K2, and
The Lifetime Tamarack. Read on!
Intex Explorer K2
Sale
Intex Explorer K2 Kayak, 2-Person Inflatable Kayak Set with Aluminum Oars and High Output Air Pump
COMFORTABLE FOR ANYONE: Kayak includes an adjustable inflatable seat with backrest;Cockpit designed...
DIMENSIONS: Kayak measures 20 x 36 x 123 inches.Maximum weight capacity: 400 pounds
DIRECTIONAL STABILITY: Removable skeg for directional stability
INCREASED VISIBILITY: In case of emergency, bright yellow color helps visibility
MADE FOR SMALLER BODIES OF WATER: Explorer K2 is made for smaller bodies of water including lakes...
The Intex Explorer K2 is an inflatable, two-person tandem kayak which will either make you love it or hate it. Inflatable boats can be fun but people have extremely differing opinions on them.
Because it is inflatable, durability is a joke. It might be easy to carry it around, but it will not be able to handle shallow waters or even mildly fast rivers. This kayak is at home in calm lakes and for recreational use. If white water kayaking is what you are looking for, the Explorer K2 is not for you.
The Explorer K2 has a rated weight limit of 400 lbs, which is pretty impressive for a boat this size. Measuring 11 ft. 6 in. x 2 ft. 6 in. x 1 ft. 3 in., this kayak seats two in tandem and comes with two 86 in. aluminum oars and a high-performance air pump that can fully inflate the kayak in mere minutes.
The kayak has a removable "skeg" or fin that can be removed when maneuverability is desired. The seats are adjustable and with backrests, quite comfortable for long sessions.
For the great price this sits at, the Intex Explorer K2 is a perfect option for beginners or people who just want to relax on the waters. Serious kayakers should look elsewhere, but for the money, the Intex Explorer K2 is a great value. The reaction from users is strongly positive. An aftermarket paddle is recommended, but for recreational users, that would not be an issue to be concerned about.
Pros
Lightweight
Seats two
Paddles included
Removable skeg provides stability
Extremely affordable
Cons
No storage compartments
Not suitable for shallow waters and fast streams
Limited legroom
Conclusion to the best kayak brands reviews
So there you have it, a review of some of the best kayak brands available out there. Before making a purchase, decide what you want a kayak for. Is it for recreational use only, or are you planning to get into adventure sports. A lot of foresight will allow you to enjoy your kayak better and for longer.