You have just had an amazing new arrival in your life, or maybe you are still expecting. Congratulations on the awesome addition to the family. There will be major changes in lifestyle ahead especially if this is your first child. If you are a jogging fan or plan to be then it's time to look at the jogging stroller options.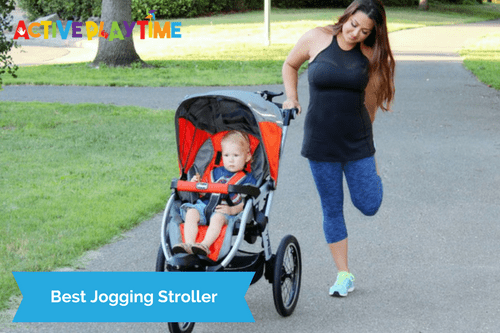 Now before you say "hey I'm not planning on running a marathon or taking an all terrain stroller into the woods", let's take a second to consider the situation.
First up you don't have to be a regular jogger to need a jogging stroller. Going just about anywhere with a baby or a toddler can be tricky. If you already have kids you will know what I'm talking about.
Regular strollers are made by someone who has never actually used one. They are designed to work perfectly in some kind of alternate universe where the entire world is flat and smooth. As we all know it's not.
When you are tired and your little bundle of joy is screaming for a feed the last thing you need is to hit a curb and have your groceries spill all over the ground.
Preview
Best Overall Combo



Title
Graco Fastaction Fold Jogger Click Connect Baby Travel System, Gotham
BOB Revolution Flex 2.0 Jogging Stroller; Black
Baby Trend Expedition Jogger Stroller, Bubble Gum
Best Overall Combo
Preview

Title
Graco Fastaction Fold Jogger Click Connect Baby Travel System, Gotham
Preview

Title
BOB Revolution Flex 2.0 Jogging Stroller; Black
Preview

Title
Baby Trend Expedition Jogger Stroller, Bubble Gum
So what is the jogging stroller advantage?
You have probably seen plenty of strollers around your neighborhood. Due to their popularity, a lot of them probably are jogging strollers. So what is all the fuss about? Are they really much better than a regular old fashion stroller?
Let's take a look at what makes the different:
Increased Stability
One of the first things you notice is that most running strollers have three wheels. This, of course, differs from the traditional four wheels. If you're aiming to get your run done while baby takes a nap then stability is essential.
Apart from being user-friendly having a stable stroller for your child is an important safety concern. The last thing you need is an injury for you or your child simply because you hit a small bump in the road.
While it might seem that three wheels should be less stable than four this is not always the case. Most running strollers are designed to improve weight distribution through the three wheels. This makes it much easier to maneuver when it comes to corners and changing direction.
Wheel options
Stability, as we have already mentioned, is very important. One of the biggest factors influencing stability is the wheels. There are many different wheel options depending on the model you choose.
The biggest single option to consider is the fixed versus swivel wheel setting. Some strollers come with just one or the other while certain models have both. My advice would be to get a model with both options. These are easily adjusted with a simple setting allowing you to lock or unlock the front wheel as needed.
If you are running at speed then the locked front wheel position will deliver better stability and better safety. Then when your just out for a walk the swivel wheel setting will allow you to have improved maneuvering. This is particularly important in tighter spots such as in a store or when on a busy city street.
Wide Stroller vs Narrow Stroller
Choosing a wider or a narrower stroller may be something you need to consider. A major factor here will be where you plan to use the stroller most often. Wider wheel bases can take up a lot of space which can be tricky on some sidewalks or in the city.
Narrower more lightweight jogging strollers are great for space saving but the narrower wheelbase can make them less stable.
If you plan to carry additional items such as bags or groceries on the stroller then the wider wheel options will offer more storage space and stability.
My personal choice would be the wider wheel base but of course, this will depend on your personal circumstances.
Jogging Stroller brakes
Brakes? Really? Sounds a bit extreme right? It's not like you plan to break any land speed records while you're out jogging. You don't actually realize how helpful this is until you use it.
If you live in an area with a lot of hills get yourself a stroller with an easy to use handbrake. When you are running downhill the speed of the stroller can get out of hand. This is especially true if you have grocery bags hanging from the stroller.
Having the brake allows you to control the speed just like on a bike. This means you can carry on jogging or walking at a reasonable speed moving downhill. It's a great safety feature and surprisingly useful.
Stroller sun shade
Sun protection is extremely important for young children. If you live in a sunny area then an hour in the midday sun without protection could leave your child sun burnt and irritated. Since you will probably be using the stroller during the brightest times of the day having adequate sun protection is vital.
There are so many options depending on the model with fixed and adjustable sun shades. Check that the shade or cover provides enough protection before you buy.
Storage and transport
There are a lot of things to consider here. If you have a big house and a huge car then you won't be too worried about space saving.
If however, you live in a small apartment you will want to choose something that folds down to fit in a small space. The same applies to a small car. If you need to fit your stroller into the car it needs to be small enough that it doesn't take up so much space there is no room for anything else.
Even if you do have plenty of space there is also the practicality to consider. When you have a baby who is upset and you are trying to juggle shopping bags and a bunch of other stuff the last thing you need is a complicates stroller.
If you can't easily fold it in a few seconds without needed another pair of hands then it's probably not a good buy. Even if you think you won't need to transport your stroller you probably will at some point to keep it in mind.
That's the basics of what you need to look out for. Now let's take a look at some options.
Best jogging stroller selection
Just to make things easier let's break these down into a few groups of options. First up let's look at the standard single seater jogging strollers.
Single seater options
Here are my top 3 picks:
Graco Fastaction Fold Jogger Click Connect Stroller, Gotham
Sale
Graco Fastaction Fold Jogger Click Connect Baby Travel System, Gotham
Stroller travel system includes the Graco Snug Ride Click Connect 35 infant car seat, rear-facing...
One-second, one-hand fold provides the ultimate in convenience for moms on-the-go
Jogging travel system features air-filled rubber tires that offer suspension for a smooth ride on...
Locking front swivel wheel provides an easy transition from daily strolling to jogging; Lock the...
Product Dimensions (in inches): 23.31 x 35.43 x 20.67
Graco is a household name when it comes to just about any baby accessory. They have been making stollers, car seats and a bunch of other products for a long time now.
The Fastaction fold jogger is actually part of a full system Graco have which includes an infant car seat and removable car seat base. You can buy it without these so just consider which parts you will need.
Having tried both the separate and integrated options with my kids I recommend going for the all in one system. It just makes it so easy to transfer the baby from the stroller to the car and then into the house. You know what they say about never waking a sleeping baby! Well, it's true so keep it in mind when buying.
Things to like about the Graco Fastaction fold jogger
It has a one handed, one-second folding system. This is essential in my mind and so convenient.
It comes with the swivel front wheel but also allows locking
At just 35 pounds it's reasonably lightweight but still sturdy
Things not to like about the Graco Fastaction fold jogger
It's quite large so probably not the best buy if your not tall
The smartphone holder is not great
Check out this quick video review of this model:
Buy on Amazon
As you can see it does do a pretty good job. It comes with a handy basket underneath for storage and the sun canopy is extra large so it gives great coverage.
It's also priced well in the middle of the range. I think buying it together with the car seat system is the way to go.
BOB 2016 Revolution FLEX Stroller
Sale
BOB Revolution Flex 2.0 Jogging Stroller; Black
Fit: Birth to 75 pounds; 0 - 8 weeks with the use of an Infant Car Seat Adapter & compatible Infant...
Smooth; speedy stability: locking swivel-front wheel; air-filled tires; and mountain bike-style...
Adjustable & Safe: 9-position adjustable handlebar with wrist strap; no-rethread five-point harness;...
Carry more Gear: Store and organize your gear in the integrated pockets and extra-large cargo basket
Travel system ready: Compatible with BOB or Britax Infant Car Seats when using the BOB Infant Car...
Bob strollers are very well known when it comes to jogging strollers in particular. Like the Gracco option you can purchase additional elements such as the car seat adapter and car seat.
This might sound like something you would see on a race car but BOB prides themselves on their state of the art adjustable suspension system. It is pretty advanced and helps with shock absorption on rough terrain. This model would even work as an all terrain stroller if you like to get off the road.
Things to like about the BOB 2016 Revolution FLEX Stroller
The additional suspension makes your run very smooth for you and for baby
Easy quick fold for storage and transport
9 position adjustable handlebar which is great to move to suit your height
Known for being indestructible
Things not to like about the BOB 2016 Revolution FLEX Stroller
It's a little more pricey than other models
Sunshade is not great
Check out this quick video review of this model:
Buy on Amazon
If you are a serious jogger this stroller is for you. It really is state of the art. The features and robust engineering make the price worth it if you are planning to get good use out of it.
Baby Trend Expedition Jogger Stroller
Sale
Baby Trend Expedition Jogger Stroller, Bubble Gum
Large bicycle tires roll effortlessly over all surfaces
Convenient Parent Tray with 2 Cup holders
Front Swivel Wheel for easy maneuvering, locks for jogging
Reclining Padded Seat with 5 point harness, tether, large canopy and storage basket
RECOMMENDED USE : Birth ~ 50 lbs or 42 inch Car Seat: 5 ~ 30 lbs and up to 30 inch. Product...
This is an extremely popular stroller. It has been on the market for a long time and is well tried and tested. It also happens to be the cheapest of the options in this guide.
One key difference here is the baby trend model is not part of a travel system set. So if you need a car seat system you will need to check compatibility. It does integrate with some models such as Chicco car seats so there are options.
Things to like about the Baby trend expedition jogger stroller
It's incredibly good value and the best priced of the options in the guide
Large bicycle-style tires make it great on just about any surface
Great large canopy and storage basket
Super easy fold and very lightweight
Things not to like about the Baby trend expedition jogger stroller
No integrated travel system
A little tricky to fold one handed
Check out this quick video review of this model:
Buy on Amazon
There is very little not to like about this stroller. It's a lot of stroller for the money and gets the job done well.
A few things to remember when jogging with a stroller
If you are an experienced jogger or even if you are just getting started running with a stroller can cause you to develop bad habits. You need to make sure you adjust the handle to the right height so that you run in an upright position. Being slumped over the handlebar will cause posture issued and possibly back pain.
Getting out with your new stroller is great for you and your child. Everyone gets some fresh air and you get some exercise. It's important to introduce the concept of outdoors and exercise early on with your children. Hopefully, they will follow your good example.
Happy jogging!