So they've finally outgrown The Wiggles and Hi-5. They no longer find the thought of accompanying Mum into town on the promise of a treat the most exciting way possible to spend an afternoon. Maybe a kids jungle gym might help?
You've run out of ideas, and quite frankly can't be bothered taxiing them around every single afternoon to one playground or another and standing there. Huddled in yet another gray, dinner stained microfleece hoodie while they run and jump and put you to shame with their effortless enjoyment of cardio and life (anybody else? No…Just me?).
Tempting as it is to allow them to watch 6 hours of telly every day just to keep them quiet, you can't help but listen to that little sensible voice inside your head saying they should be out playing, stretching, climbing and getting some exercise. So there has to be a compromise between giving into the telly sloth monster and endless hours of punishment supervising the usually incredibly windswept soft play area at the local park.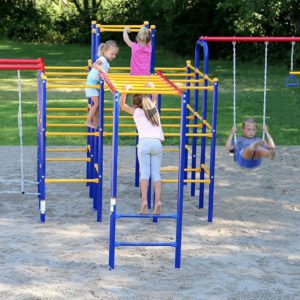 Kids Jungle gym playground solution
The compromise (du du du duuuu…that's meant to sound like trumpets!)…turn your back garden into your very own kids jungle gym playground. Not as expensive or time-consuming as it sounds, thanks to the modern wonder that is Amazon and the magic of online shopping. The only time-consuming bit may be removing all the dogs…ahem…"leavings" before allowing them out to run amuck!
Anyway, as far as I'm concerned there are no downsides to having a climbing frame in the back garden. I always had one growing up. That was more of a DIY job…little or no health and safety in those days! Some industrial yellow bars welded together in a haphazard fashion and some tyres for a swing with the mandatory mud patch underneath where the grass had been scuffed away! Awesome!
Plenty more to choose from these days however…all sorts of shapes, sizes and colors. Bit overwhelming really so I'll help you out and give you a quick glance at my 4 favorite picks for the little (and slightly bigger) rugrats.
A Couple of things to look out for before you buy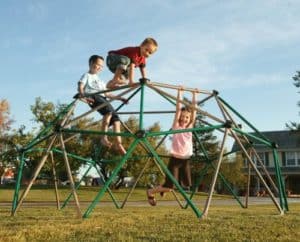 Size of garden versus size of climbing frame is a pretty obvious one. While none of us mind devoting our back garden to the health and well-being of our children it would still be nice to have somewhere to sit and drink your coffee of a sunny morning (still waiting for one of those) or hang out your washing without having to do a commando climbing expedition over a giant metal dome. So, keep it proportionate!
Plan Ahead
Secondly, it's a good idea to plan ahead and get a kids jungle gym that's not only age appropriate for now but that you're likely to get a few years out of and they'll still enjoy into the future a bit. If you're going to go the expense and bother of installing an epic structure in your back garden, it would be nice to know they won't have completely forgotten about it by next week (as seems to be the case with every other toy our house!)
Thirdly, quality and durability of materials. Outdoors is a rough environment for any recreational product so, bright colors and pretty appearance aside, it needs to be built to last and withstand the heat and cold variations in your local area.
And last, dog poop removal aside, what other ground prep is required before assembling the structure…some models can go straight onto grass whereas some need a sand, bark or mulch base. This will cost a little bit extra depending on what you choose to install and needs to be factored into the cost. Also, be prepared to say goodbye to your nice green manicured lawn!
So let's check out a few of my favorites. I'm happy to say, in an attempt to stay young at heart, I've had a go on a few of them myself and they are fun fun fun (bruised hips and squashed fingers aside)!!
Easy Outdoor Space Dome Climber
Age Range: 3 to 9
Dimensions: 91 x 91 x 46 inches
Is Assembly Required: Yes
Maximum weight: 1000 lbs
About the Easy Outdoor Space Dome Climber:
With a maximum weight of 1000lbs you could keep the whole neighborhood entertained for hours with this kids jungle gym. Recommended for kids aged 3 to 9, the sturdy outdoor space dome climber allows up to 5 children at once to stretch their imagination to the limits and boost their strength, physical activity and social skills. Great entertainment for holidays, birthday parties and you can even put a tarp over the top and make it into a tent for those soggier days.
Made of top-quality, UV and rust resistant steel tubing the structure is extremely durable, weather resistant and sturdy once assembled. You can happily and comfortably let your kids climb on this without fear of bending or breaking.
The Good Bits:
Looks great: Bright colors and an interesting dome shape make it a cool addition to any backyard, and you can even hang your washing on it if the kids aren't home!

Extremely sturdy: There is no doubt this kids jungle gym is very strong and sturdy and made of good quality materials.

Multiple kids can play on it at a time, meaning less squabbles and more downtime for the grown ups.

Climbing bars are a good distance apart, making it challenging and fun for kids from ages 3 to 9.

Versatile: Even in wet weather it can be a source of fun if you cover it with a tarp and turn it into a kids jungle gym tent!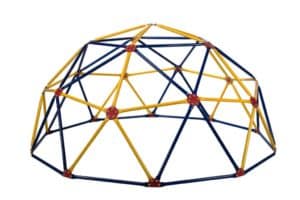 The Bad Bits:
As always assembly will be required and is always a bit challenging. Assembly for this takes about 1.5 hours with 2 adults or up to 3 hours if you're by yourself …great if you're a DIY junkie…not so great if, like me, you have the DIY capability of a sprout.

This product is made of metal. While this is a huge plus for sturdiness and longevity of product, it can be a bit tough on little hands in extremes of heat and cold. If it's assembled in an area that gets the sun all day long the bars may get pretty hot in summer. Likewise in Winter the bars can get pretty cold.  Maybe plan to assemble it in an area that gets a good balance of shade and sun all year. If this isn't possible perhaps keep it covered with a tarp when not in use.

Difficult to move once assembled: Choose the spot to assemble it in wisely as, once it's up, it's probably not going anywhere.
What the Reviews Say:
Majority 5 Star reviews on this product, highlighting the sturdiness and quality of the assembled structure and it's cool appearance. A few bad reviews regarding missing hardware (nuts and bolts) on delivery. However, this does seem to be in the minority. Several reviews stated that they had great difficulty obtaining replacement bolts from the manufacturer and it turned out to be rather a lengthy process. However, in contrast, a couple of other reviews stated that customer service was great and they had no problems getting their complaints rectified.
What We Say:
All in all we think this is a very good quality and sturdy product..and it looks cool too! If you usually end up with half the neighborhood kids in your back garden then this is the kids jungle gym for you. Any bad reviews are centered around missing hardware and not the quality of the product itself so, if you're prepared for the possibility of a few days delay to replace hardware, it's definitely worth the wait.
Skywalker Sports Modular Jungle Gym
Age Range: 2 to 10
Dimensions: 16.85 x 64.17 x 7.76 inches
Is Assembly Required: Yes
Item Weight: 120.8 lbs
Maximum weight: 1000 lbs
About the Skywalker Sports Modular Jungle Gym:
Square instead of dome, we like this design. It is a different shape of kids jungle gym, modular in design with the capability of adding accessories such as climbing ladder and swings, to keep it interesting as the kids get older. Plenty of room to let their imaginations go wild on this cool structure.
Constructed from Powder Coated Steel and with handy no pinch joint covers to protect little fingers, it should stay safe, rust free and durable for many years.
The Good Bits:
No Pinch Joint Covers: Remember that searing pain as a child when the skin on your finger got pinched between the monkey bar joints, and the ugly purple bruise mark on your finger that would hang around for weeks. Well, none of that with this kids jungle gym. No pinch joint covers means your little monkeys can climb and swing happily without worrying about finger entrapment and the subsequent tears.

Customizable: The unique modular design of this product allows you to customize it. What does that mean? Add swings, add a hanging bridge, add monkey bars, see-saws…whatever you think they'll love. Meaning, of course, better value for money as they'll stay interested in it longer.

Modular design means kids can decide how high they climb, keeping it both challenging for older kids and safe for younger kids.
The Bad Bits:
Assembly: Lots and lots of assembly. Put aside a full day for this one, possibly even a full weekend! It's a challenge alright and you may need some of your own power tools on hand to speed things up a bit.

Ground anchors not included: This item needs to be staked into the ground with cane-shaped metal anchors. These do not appear to be included with the product, which is a bit strange.

A little bit shaky at times even though it's anchored into the ground. However, it still felt stable.
What the Reviews Say:
Only 5 and 4 star reviews on this one which is pretty outstanding. That said…there's only 4 reviews in total, so possibly not so amazing. All 4 reviews state that the product is great but the instructions are a little unclear at times, with assembly taking anything up to ten hours.
What We Say:
We like it! All in all a good product. The design is different from the dome shape frequently available these days and this allows for the addition of accessories such as swings and climbing bridges to stretch their imaginations even further. The product is a little bit shakier than the more stable dome structure. 
That said, it didn't feel unstable at any point. Without the accessories I think the dome shaped structure is more popular in our house. However, once you add a rope bridge and some swings all of a sudden they think they're Jack Sparrow. Personally, I think you'd probably get more years out of this one as the possibility to accessorize keeps it interesting for bigger kids.
Jungle Gym Kingdom 18" Steel Trapeze Swing Bar
Age Range: 3 and up
Dimensions: 17.7 x 4.1 x 10.6 inches
Is Assembly Required: No…hurrah!
Product weight: 4.4 lbs
About the Jungle Gym Kingdom 18″ Steel Trapeze Swing Bar:
So you already have your swing set or kids jungle gym installed in the backyard and they're starting to lose interest. After all those hours spent on assembly you surely can't just let it go to waste…so what to do? Accessorize of course! This is a great little product to add to your kids jungle gym world out the back garden. And best of all…there's no assembly required! None at all! Well that's got my vote! This trapeze comes fully assembled and can be attached in seconds to any swing set hangers or other playground equipment. Great for building upper body strength and co-ordination this product is sure to add diversity and extra fun to your kids jungle gym!
The Good Bits:
No Assembly Required! Just attach it to your current swing set and let the kids run wild.

Sturdy and robust

Possible to use inside as well if you have solid block ceiling and you don't mind a bit of DIY.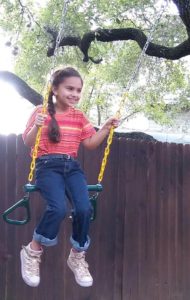 The Bad Bits:
This is for slightly older kids with the upper body strength to make the most of it. If you're trying to entertain really young toddlers I wouldn't recommend it. However, it is such an easy addition to any climbing frame it can be added on at a later date without hassle.

I found the metal bar slightly too thick for little hands.

May require a bit of extra supervision and assistance for smaller kids of 2 to 3 years to mount it and build up the upper body strength.

One at a time only. This may cause a few squabbles (or you could buy a second one!)
What the Reviews Say:
98% 4 and 5 Star reviews on this one which is pretty amazing.  All positive reviews regarding parts arriving on time and good customer service. All reviews state it is a very good quality, robust product with very few complaints. The only complaints are that the bar may be a bit too thick for little hands or the chains for a bit short and extensions had to be bought at the local hardware shop. Apart from these minor issues it's all good with this one so definitely worth the money.
What We Say:
We're confident this swing set will spark a renewed interest among your little monkeys with their kids jungle gym. Great for building upper body strength and coordination it's not only a fun toy but also great physical activity.
The product is very heavy duty, sturdy and well made leaving adults feeling confident that there'll be no injuries from breakages, which makes happy Mums and Dads. All in all definitely worth the small investment to get them away from the TV and build big strong humans!
Skywalker Sports Jungle Gym Combo
Age Range: 2 to 12
Dimensions: 227.13 x 227.13 x 82.6 inches
Is Assembly Required: Yes…lots of it!
Product weight: 360.2 pounds
About the Skywalker Sports Jungle Gym Combo:
Wow! This is a huuuuuuge product! It's pretty impressive and includes kids Jungle Gym, Swing Set, Hanging Bridge and Monkey Bars. So, basically everything you need to turn your back garden into a customized kids entertainment zone and provide hours and hours of healthy fun swinging, climbing, jumping, hanging and whatever else it is that kids like to do with all their excess energy.
Constructed from powder coated steel and using no pinch joint covers to protect little fingers, this product is safe, robust and weather resistant, ensuring many years of outdoor fun for your little monkeys as they turn into big monkeys.
The Good Bits:
Product is strong, durable and shows no signs of instability or shaking. Even with several kids on it at once.

The modular design means you can customize it to best suit the space you have available.

Huge age range: Whether you're trying to entertain a bored 12 year old, a restless 4 year old or even an ambitious (petite) Mummy, the whole family can get in on this one. It's even possible to attach a baby swing and get Junior involved too.  

It looks cool. Very eye catching. In fact, you'll be the envy of the neighborhood with this one!
[easyazon_image align="center" height="343″ identifier="B00PFITJMC" locale="US" src="https://activeplaytime.com/wp-content/uploads/2017/02/618MYEEkZqL-1.jpg" tag="activeplaytime-20″ width="500″]
The Bad Bits:
Groundwork: Due to the size of the structure a bit of groundwork is needed. This may include putting down bark, mulch or sand rather than a grassy base. The structure will also need to be anchored to the ground which will be an additional cost as this is not included in the price.

Lots of assembly: There is a lot of assembly involved with this product. You may want to prepare yourself and put a full weekend aside for it. It can be done solo. However, I'd recommend having another grown-up around for a bit of heavy lifting, moral support and coffee making!

It's big. Huge in fact. So if you're back garden is only pint sized I'd probably opt for the basic Skywalker jungle gym without the monkey bars and swing set attachments. Otherwise you'll be off roading on the kids jungle gym to get to the washing line!
What the Reviews Say:
Not a huge amount of reviews to work from. Only 10 in fact but out of these 10, fairly consistently good reviews stating that the product is strong, sturdy and of great quality. A couple of reviews advised that their hardware (nuts and bolts) were missing bits or not of great quality. That said, the manufacturers were great to deal with to rectify the problem and there were no customer service complaints. They also included spare hardware parts in the kit for any problems with breakages or missing parts which certainly speeds things up a bit.
What We Say:
Aside from the mammoth task of assembly, this seems like a great addition to the back garden…if you have the space! If not, there are smaller, more compact alternatives available. However, as it will probably appeal to most of the neighborhood and provide instant birthday party entertainment for years to come it's probably worth sacrificing the dream of a posh patio area for a few more years just for the peace and quiet and happy healthy children.