An Indoor swing set, climbing frame or jungle gym is a great idea for keeping the kids entertained indoors. Whether it's just because they're extra little littlies and you want to keep a close eye on them or, like me, you're subjected to a damp, grey, rainy climate 10 months of the year, sometimes it's great to have an indoor option that offers a bit of activity instead of falling into the rainy day trap of slumping in front of the tv and watching endless repeats of your favourite television show.
Will and indoor swing set take over my house?
However, that said, not all of us have a spare lounge room to assemble a giant climbing frame with all the bells and whistles. In fact a lot of us barely have a spare square meter in the living room to put up a clothes horse, never mind a full on kids entertainment zone! Never fear! There are options out there for those with limited indoor space available to dedicate to kids entertainment. This is where an indoor swing set rather than a full on climbing frame is a great choice to invest in and takes up minimal space (if you don't mind having to navigate around some hardware every time you want to use the doorway!)
Installing and Assembling your swing set
They're usually fairly easy to install and if your previous experience of assembling kids toys is trying to put together a giant full-on climbing frame you'll be pleasantly surprised by these as it is usually just a matter of attaching it to a door frame. The obvious downside, of course, is that only one kid can make use of it at a time which will inevitably lead to squabbles if you've more than one tiny tyrant in your house, but I guess that's how they learn to share and wait in line!
We'll take a look at some of our favorite indoor swing sets and review our top picks.
Gorilla Gym Kids Deluxe with Indoor Swing, Plastic Rings, Trapeze Bar, Climbing Ladder and Swinging Rope! Wow!
Amazon Rated: 4.5 Stars
Age Range: 3 months to 12 years
Dimensions: 26 x 39 x 14 inches
Is Assembly Required: Yes but not much!
Product weight: 18.9 pounds
Maximum Weight: 300 pounds
To Fit Standard Doorway: 25 to 36 inches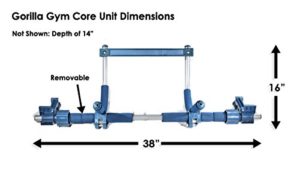 About the Gorilla Gym:
Wow! We love this product. Plenty of attachments, plenty to do, very easy to install and tested to support up to 300 pounds, meaning Mum or Dad can get in a quick home workout once the kids have gone to bed…even more value for money! So this indoor swing set includes plenty of attachments such as plastic rings, trapeze bar, swinging rope and more. 
The various attachments take only minutes to change, meaning your budding gymnast can swing, climb and pull-up to their heart's content, helping to develop great strength, muscle coordination, balance and confidence in their own abilities. And the best bit…you won't even know it's there…once they're done, just unclip and pop in under the stairs! It even comes with a nice little mesh bag to keep everything together. Although to be honest it will probably never see the inside of the bag as it is usually constantly in use in our house!
Installation of this product involves no drilling, hammering or damage to the walls or doorframe. It just attaches to your door-frame (a bit like a home pull-up bar) and the Vise-Grips adjust to fit.

The Good Bits:
Easy installation: I mean really easy…we're talking minutes here. Now that's my kind of toy!

This indoor swing set is strong, sturdy and very secure, yet also lightweight and portable…meaning you can bring it on that camping trip. OK well, maybe it wouldn't work so well in a tent doorway but you get what I'm saying! Kid's entertainment on the move…how awesome is that!

Attachments change very easily which means kids will be kept busy for a lot longer before the sandwich and juice requests start coming in.

Doesn't mark or damage the walls or doorframe. Important in any house but super important if you rent and can't leave permanent markings anywhere…another tick in the box.

Silent…apart from the little monkeys hanging off it this product is silent…no creaking or groaning or odd noises…just happy, or squabbling, children…but there's not much we can do about that noise!

Good age range, although the minimum recommended age range of three months might be a little ambitious! Can't imagine popping my lot up on a trapeze bar to swing free at three months but maybe that's just me…
The Bad Bits:
This product only fits STANDARD door frames. If your house is older or your door frame is wider than standard you will have to purchase extra extension clamps direct from the company.

Like every child's toy there is a fall hazard. However, it's not that high off the ground and if you install a soft play mat underneath while they're at play it should reduce risk of injury.

For taller kids, maximum recommended age range of 12 might be a little generous…perhaps 9 or 10 is more realistic.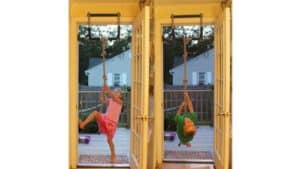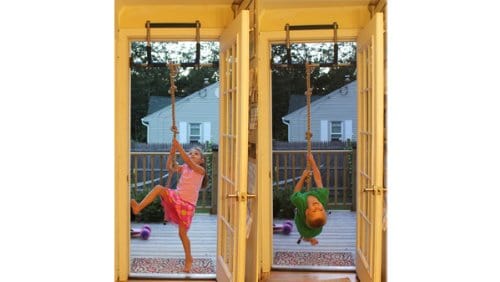 What the Reviews Say:
A lot of good reviews describing the product as strong, sturdy and well made. However, a few in contrast to this saying they found it was badly put together will hole punches not lining up with bolts properly and such. Following on from this, some reviewers stated they had difficulty with missing parts on delivery and experienced poor customer service when trying to rectify the problem.
Handy tip from one reviewer: Buy large carabiners for each apparatus (8 all together) because the small ones that come with the set are difficult to remove and replace every time you want to switch items.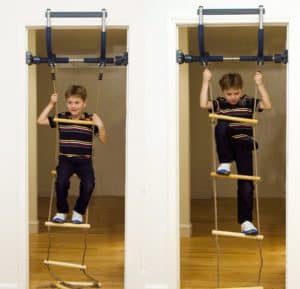 What We Say:
We love it. Our kids love it. It's a space saver that offers hours of entertainment each day and saves my two doing monkey swings from the stair banister and door handles. Feels very sturdy and we found it really easy to install. We have a spare door from the lounge to the toy room so we usually just leave it up all the time but, the odd time we have taken it down, we didn't experience much difficulty. Would definitely recommend as it makes a good long term investment. If you're kids are 3 or 4 they're at the perfect age to start getting the most out of it and you'll get a good few years use before they outgrow it.
4.5 Stars from us!
[divider]
Little Tikes Hide and Seek Climber and Swing
Amazon Rated: 4 Stars
Age Range: 12 months to 3 years
Dimensions: 53.5 x 51.9 x 41 inches
Is Assembly Required: Yes
Product weight: 35.8 pounds
Maximum Weight: 40 pounds
About the Little Tikes Hide and Seek Climber and Swing:
Cool little indoor swing set, also suitable for outdoors for those bright Spring days. Includes beginners faux rock climbing wall and a gentle sloping slide on one side, making the new found skills of walking a climbing fun and safe. Attached on the other side is a safe and cosy gentle swing with a 3 point safety belt to keep bubs safely strapped in and entertained.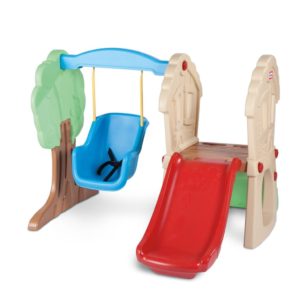 The Good Bits:
3 point safety belt, ensuring maximum security for your little one while they play in the swing.

Easy assembly…should take no more than 15 to 30 minutes.

Easy to move inside and outside, depending on weather.
The Bad Bits:
Smaller than expected: Suggested maximum age range is 4 years. However, I would say it's probably more likely 2 and a half years, or even two years maximum.

A small bit of rocking and movement when used on carpet.

Rock climbing wall, while great for slightly older ones, is too difficult and steep for the very small ones.

Swing straps very difficult to adjust.
What the Reviews Say:
Reviews were mixed, although majority 4 and 5 Star. Several buyers found this indoor swing set a bit flimsy and in need of some extra supports in the construction.
Many reviewers agreed the climbing wall is too steep and not appropriate for younger end of age range. Also, it seems to be widely agreed that the product would not be suitable for a 4 year old as recommended, but more the age range is from 6 months to 2 years.
However, kids in this age range for the most part, seem to get great enjoyment from it.
What We Say:
It's a nice design and great for up to 2 years old. However, it does seem a little flimsier than other indoor swing sets we've reviewed and, as the climbing wall is too steep for a kid under 18 months and it doesn't leave much of an age range when your little one can get full use out of it.
A nice little entertainer but not our favorite…3 stars.
[divider]
Little Tikes 2-in-1 Snug 'n Secure Swing
Amazon Rated: 4.5 Stars
Age Range: 9 months to 4 years
Dimensions: 16 x 16.3 x 17 inches
Is Assembly Required: Yes But Not Much
Product Weight: 5.9 pounds
Maximum Weight: 50 pounds
About the Little Tikes 2-in-1 Snug n Secure Swing:
This is a nice simple little swing for babies and toddlers. Snug and secure with various safety features, your little bundle of joy will be kept calm and entertained at any hour of the day (and night!) in this indoor swing set. The product comes with several safety features including T-bar straps to hold baby securely in place, which can be removed as the child grows out of them. Also included are adjustable shoulder straps to hold baby in place and keep them safe. These can also be moved out of the way and easily stored when they are no longer needed.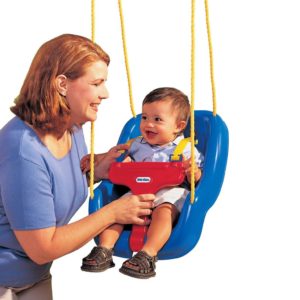 The Good Bits:
Plenty of safety features to keep baby snug and secure and keeping parents' mind at ease.

Plastic is robust and product is sturdy
The Bad Bits:
Suggested age range is up to 4 years. However, I think 2 years would be more realistic.

Swing cannot be tilted or adjusted depending on whether child wants to sit up or not.

No cushioning on swing. While this is good for keeping it clean some kids might find it a bit uncomfortable.

Buckle clips can be difficult to clip into place. Be careful with this one and listen for the double click before you push your child on the swing.  
What the Reviews Say:
Mixed reviews on this one. Mainly good but a few reviewers said the product was unsatisfactory from the point of quality control, stating that they found the straps frayed very easily and there was buckle clips missing. A few buyers also noticed that the swing was a bit crooked and seemed unable to adjust it to straight. The majority of the reviews however said their kids enjoyed the product from ages 6 months to about 2 years.
What We Say:
We like this one, however it's a little limited in what it can do in contrast to other multi-functional indoor swing sets on the market that you might get a bit more use out of. We didn't find it flimsy but did think the plastic seat looked a little uncomfortable and badly shaped. However, if a safe and simple swing is what you're after it's a lovely little safe haven for babies to spend their time.
3.5 Stars from us!
[divider]
Which indoor swing set did we choose?
So product 1, the Gorilla Gym Kids Deluxe with all the extras is definitely our favorite from this bunch. It's not really a fair comparison though as it's quite a different product for an older age range than the other two indoor swing sets but that's what went down a treat in our house. Whatever you choose to buy, it's great to see your little monkeys up and active and burning off all that extra energy before bedtime!