So what are Fine Motor Skills and why are they so important? Well basically Fine Motor Skills are movements carried out by the muscles of the hands, fingers and forearm. Activities such as holding a pen, paintbrush or toothbrush, learning to tie your own shoelaces or making and building stuff. These skills in themselves are a vital part of any child's development. Proper development of fine motor skills enables the child to carry out their own activities of daily living. Thus, promoting and encouraging independence and optimum development throughout the lifespan. On a more global scale, the fine motor skills of humans as a species is what developed civilization. Buildings, art, engineering, infrastructure…all center around our fabulous fine motor skills. So worth holding onto I think! 
Development of fine motor skills in children can be encouraged in many ways. It is crucial to develop them adequately as it enables them to hold, move, squeeze and lift objects with their arms.  A like of fine motor skills would be like trying to lift a pen with your toes and write. Sounds difficult eh? With good fine motor skills, children also learn and develop hand-eye coordination and psychomotor skills. This allows them to draw, write and color and build things. But that's just fun stuff right? Wrong…it encourages creativity, ingenuity and healthy brain development all the way into adult life.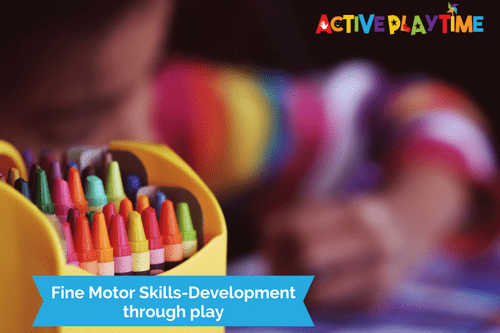 To a certain extent Fine Motor Skills develop naturally as a child grows. For example, a newborn baby knows how to grasp and squeeze it's parent's fingers. Basic skills like this seem to be built in before birth. However,  as baby grows he learns to control their actions better and do more complicated skills. Activities like picking up toys or dropping them may seem like "child's play" to an adult looking on. However, these seemingly simple activities are the beginning of the brain's development of fine motor skills and full functioning as an independent human.
Importance of Fine Motor Skills
So why are Fine Motor skills so Important? I mean, let's face it…learning to lift a paintbrush doesn't seem that crucial to life. Well it is. It's all these small things such as lifting pencils, tying shoe laces, learning to use a hammer and nails (toy hammer and nails of course) that allow the brain to develop fully. These small Fine Motor Skills are the beginning of independent development in your child. As they grow their skill set grows and they figure out what they enjoy doing most. Whether it be art and painting our building stuff. They also become more independent in their self-care tasks such as brushing their teeth, personal and food hygiene, using utensils to eat, and dressing themselves.
Good Fine motor skills are also the foundation to an effective education as they learn to write, use scissors, paint and play with toys. This clearly encourages their personal development as an individual. However, being able to join in group activities such as art, crafts and active play also encourages social interaction and develops interpersonal skills and good communication. 
So it's clear that the correct development of Fine Motor Skills in a child is a foundation to becoming an independent and well-rounded adult.
Development of Fine Motor Skills
Fine Motor skills are used for a lot of important daily activities and tasks. A young child has very little control over their muscles and limited strength and tone. Therefore it is hard for them to hold onto an object for an extended period of time. By encouraging them to explore and interact with objects they learn to develop their strength and gain control of their movements. When developing fine motor skills, they continue to build on the basic ones and learn to do much more complicated tasks independently.
When we encourage children to play, they also learn in the process. Play is not a luxury for children. It is how they learn and grow. They love to play, use their imaginations and create. While it just seems like fun to them, they are learning and discovering so much while they play. That is why it is so important we encourage toys and activities that spark their young minds and boost the learning experience. Here are some milestones to look out for as a child develops throughout their childhood:
Age 0-6 months

A newborn will instinctively grasp your finger in their tiny hands

They will also begin to reach for objects near them

At 3 months, they learn to grasp an object they want voluntarily. 

They also have a more controlled reach by the age of 6 months
Age 6-12 months

Very controlled reach and grasp.

Can pick things up by using their pincer grasp (finger and thumb)

They can move objects from one place to other

They have more control over releasing and dropping objects.
Age 1-2 years old

A child learns to stack objects in small heights

They can turn the page of a book

They learn to draw scribbles

They can turn objects like doorknobs and toys

Can paint with simple strokes

They can insert pegs on peg box

Can put spoon a into their mouth

Plays with play dough by pulling and pounding
Age 3-4 years old

Can cut with scissors

They can draw simple shapes

Can build higher towers (up to 9 blocks)

They can create towers by connecting building blocks (Legos, Duplo etc)

Can eat without assistance

They can put on clothing by their own

Can write, color and draw
Age 5-6 years old

Develop more control of their arms and can use just one hand for another task

They can draw more complicated shapes

They can write letters and numbers

Can now color properly and inside the lines

They can draw more recognizable pictures

Can cut scissors in a straight line

They can copy drawings and create ideas themselves.
Ways to Improve Fine Motor Skills
There are many ways to improve your child's fine motor skills. The best way is to ensure their daily activities are fun and interesting for them. This promotes enthusiasm and eagerness to learn.
Here are a few ways we can improve and help develop fine motor skills in children:
Strengthen their Pincer Grasps
A pincer grasp is picking something up with your thumb and forefinger. We can promote strength and accuracy in their pincer grasps by letting them play with toys that have dials, switches or knobs. Even very basic objects, like picking up a crayon, can encourage an accurate pincer grasp. As always, when your child is near small objects it is vital that they remain under adult supervision at ALL times. Ensure your child is NEVER left alone with small objects. 
When children stack blocks they learn to balance objects and control their hands. They also start figuring out bigger amazing stuff like balance, gravity and equilibrium but we won't get into that right now! Anyway, they learn to practice stabilizing their movements, hand eye co-ordination and adjusting force, speed and accuracy…all without knowing what they're learning!
Play dough is awesome…there's no doubt about it! It's almost worth the old play dough mashed into the carpet for the fun you get. Play dough has been very popular for generations and there's a reason. It's fun, malleable structure means they learn to create objects and use their imagination as they squeeze, pull and stretch the dough. It strengthens their hands and fingers and helps them discover new textures. It's also pretty fun for the adult to play with too…you're never too old for Play Dough!
Aside from invoking creativity, Finger Painting helps them develop their hand-eye coordination. It lets them use their hands as they paint and do simple strokes. It exercises their hand-eye coordination as they learn to draw their favorite pictures and express themselves. Learning to have messy hands is great for children too. It encourages them to discover new textures and explore new things.
Coloring is an excellent way to develop fine motor skills. As an adult we don't really think much about it when we hold a pen or a marker. We just know how to do it. However, this is a skill that needs to be learned and the muscles need to be developed to do this without fatigue. A child can quite happily color for hours, developing the relevant muscle strength and tone without even realizing it. When a child colors, they learn how to practice their grip correctly over an extended period of time. It encourages strength, accuracy and muscle longevity. Eventually holding a pencil becomes a skill they don't need to think about. It also sparks their creativity and helps them improve concentration, mindfulness and task completion. Three very valuable life skills. 
Recognizing Fine Motor Skill Problems In a Child
As parents, without being aware of it, we are constantly monitoring our child's motor skills. Generally, we know instinctively if our children are developing correctly or if they need some extra encouragement or assistance with their fine motor skills. If you do feel your child is falling behind a little bit in their fine motor skill development don't be shy about asking people about it.  Community nurses, GPs or even other parents in your local play group may be able to set your mind at ease. Either way, early intervention is the best way to correct any developmental delays and get bubs back on track. 
These are a few things to look out for to assess if your child is having difficulty with their Fine Motor skills:
They may have difficulty using their grips. Particularly when using pencils and crayons. This may show up as messy or slow hand writing.

They may tire easily when doing activities involving use of their fine motor skills. This is due to the extra concentration needed. 

They may have difficulty in doing tasks involving controlled movement, such as threading a needle or tying a shoelace

They may show dislike towards activities involving hand-eye coordination

They find it hard to do age appropriate self-care tasks such as dressing themselves, brushing their teeth and feeding themselves.

They have difficulty in registering new fine motor skill tasks.
The above may be some signs that a child may have problems with their fine motor skills. However, it is not a diagnosis and if you have any concerns its crucial to talk to a medical professional or child development specialist as soon as possible. In the meantime continue to encourage and guide them positively and patiently as they learn new skills. 
Toys that Help Improve Fine Motor Skills
Children love to play.  The best toys are the ones that combine learning with playing. New knowledge and skills are easily absorbed while they have fun and burn energy. Here are a few toys we found that may help to encourage the development of Fine Motor Skills.
Fat Brain Toys Tobbles Neo

LEGO Duplo My Town Family House 10835 Building Block Toys for Toddlers

Pegboard Shapes Puzzle 38pc

Kare & Kind Smart Dough Tools Kit with Extruder Tools and Breakfast Time Set (Kare and Kind Retail Packaging)- Assorted Color (Extruder Tools)

HABA Rainbow Fabric Ball – Machine Washable with 8 Different Sensory Effects
Quick Review
Fat Brain Toys Tobbles Neo
The Fat Brain Toys Tobbles Neo is a stacking toy that your child will love. You can stack, balance and spin each egg and enjoy the giggles as they topple over. There's plenty of fun to be had as they play and use their little hands. It includes six uniquely weighted colorful pieces for balancing, spinning, stacking and toppling. Its small pieces make it easy to hold and it has a beautiful child friendly design .
The Fat Brain Toys Tobbles Neo are suitable for children ages 6 months to 2 years old. It helps strengthen Fine Motor Skills, Coordination and Visual-Spatial Skills.
The Good News:
The Fat Brain Toys Tobbles Neo is an educational toy that has many benefits for a growing child as they learn to play and explore with these toys.

It is made with ABS plastic and is BPA-Free that is safe for children

It features a unique stacking design that will keep your child interested for hours.

It is easy to use and balances easily for very young children

It's colorful, fun style makes if visually interesting for your child.

It is suitable for ages 6 months to 2 years old
The Bad News
Some users have found that its not very durable and breaks quite easily. 

Some users say that their children got bored of it quickly. However, this is probably more of a personal opinion. 
LEGO Duplo My Town Family House 10835 Building Block Toys for Toddlers
The LEGO Duplo My Town Family House 10835 Building Block Toys for Toddlers contains a massive 69 pieces of LEGO. It includes 3 mini figures: Mom, Dad & Child LEGO DUPLO figures. It features a three-level house & car for your child to build. This hugely encourages not only Fine Motor Skills but also ingenuity and concentration.  Suitable for children 2 to 5 years old.
The Good News:
The LEGO Duplo My Town Family House 10835 Building Block Toys for Toddlers features a play house theme which a child can use for imaginative play

It features 3 mini figures to add a personal touch.

The child can create a 3-story building. This encourages fine motor skills, whether they choose to follow the design or create their own invention.

It is easy to build and has fun colorful designs
The Bad News:
It contains small parts that may cause choking in small children

Some users say that the price is high for a 69 LEGO piece set.
Pegboard Shapes Puzzle 38pc
The PegBoard Shapes Puzzle contains 36 Pegs on a board in 12 fun colors and 12 Different Shapes. It includes 1 orange Peg Board and 1 Skoolzy drawstring bag pack. The PegBoard Shapes Puzzle can be stacked by color, shape or pattern. This encourages organisational skills and spacial awareness. It has oversize pegs, so children can easily grasp and stack on the pegboard. It is therefore excellent for developing fine motor skills, visual perception skills and concentraition.
The Good News
The PegBoard Shapes Puzzle contains a diverse range of pieces in many different shapes and colors to hold their interest. 

It includes a handy travel backpack to keep all the bits together and make it a handy lightweight portable toy. 

It can be stacked and placed in so many ways it will stretch your child's imagination.

Encourages many skills such as identifying shapes, colors and sizes, stacking, organisation, pattern building and developing fine motor skills

It has a colorful, fun design that any child would love. The bright colors also mean its easier to spot the lost pieces on the carpet before you stand on them!
The Bad News
Some customers found that it has a few sharp edges that may cause minor scrapes in smaller children

Some customers found missing parts on delivery. 

A few customers found that the base of the pegs broke off a bit too easily. 
Kare & Kind Smart Dough Tools Kit with Extruder Tools and Breakfast Time Set (Kare and Kind Retail Packaging)- Assorted Color (Extruder Tools)
The Kare & Kind Smart Dough Tools Kit with Extruder Tools and Breakfast Time Set contains 22 pieces in one set. These include Extruder Machine, Extruders, Plastic Silverware and Molds (Waffle, Tomatoes, onion, lettuce, Bun). All of which come in assorted colors. It is great to use with play dough as they can create amazing shapes and designs using the extruder. It enhances a child's imagination and develops their fine motor skills as they play with each play dough tools. The instant visual results encourage a child's confidence in their creative abilities and promotes further exploration and learning. 
The Good News:
The Kare & Kind Smart Dough Tools Kit with Extruder Tools and Breakfast Time Set contains many pieces that a child can use with play dough. This promises hours of fun on a rainy day!

It has colorful design and features many different shaped extruders allowing for many different designs and patterns. t

Includes several different molds perfect for creative and imaginative play.

It is easy to use
The Bad News
The set does not include the play dough., which is a bit disappointing.

Some customers experienced missing parts on delivery.

On Occasion customers found it not very durable and breakages occurred after only one or two uses.

Some user complained that the extruder is hard to use for small hands. 
HABA Rainbow Fabric Ball – Machine Washable with 8 Different Sensory Effects
The HABA Rainbow Fabric Ball has Eight colorful fabric sections that offers different textures, sounds, and visual effects. It has rough, smooth, soft and hard texture and can rustle, rattle, squeak, and more! Materials include polyester, velour, mesh fabric, corduroy and tricot fabric. It is perfect for babies as it contains vibrant colors and textures that they would surely love to explore.
The Good News:
The HABA Rainbow Fabric Ball contains many benefits for a child as they learn sensory effects and develop their fine motor skills as they touch and grasp the ball

Colorful design and different sounds keep baby interested.

It has many textures that a child can explore and learn as they play with their Haba ball

Lightweight for baby to learn to grasp.

Machine washable…always a bonus when baby starts to chew on it.

It is safe to be chewed on
The Bad News
The HABA Rainbow Fabric Ball is quite expensive for what you're getting. 

It is made in China. While this is not a fault, some people prefer products made on home soil. 

Some users complained that the ball breaks easily, with stitches coming away in the washing machine. 
Conclusion
So in conclusion, Fine Motor skills are essential for the healthy growth and development of a child into adulthood. It is the foundation of independence, creativity, confidence and healthy brain development. Good Fine Motor Skills to a successful education as your child learns to write, draw, make things, etc. which are all essential in their growth and development as a child.
By introducing toys that encourage the development of fine motor skills, they learn to improve and master each skill while having fun. As they explore the toys they learn new skills and build on old skills.
These fun toys help children not only with their fine motor skills but also improve other life skills such as creativity, social interaction and self-confidence. As parents its our job and privilege to provide them with every opportunity to learn, grow and develop into healthy, happy independent adults.